In October, I spent two days fishing off Montauk, N.Y. In fact, I was quite sore by the end of the second day after reeling in dozens of false albacore, bluefish, and striped bass.
The success of the trip was due in part to the skill of my guide, Captain John McMurray. But it also is a testament to the health of the three stocks we were targeting. More fish mean better opportunities for anglers, increased economic benefits to fishermen and coastal communities, and healthier marine ecosystems. Everyone wants more fish in our oceans -- the challenge today is finding the right way to achieve that goal.
A Year to Remember
This was a historic year for United States ocean management. Thirty-five years after the Magnuson-Stevens Fishery Conservation and Management Act (MSA)
was enacted
, we have finally established a system that, if implemented properly, will keep countless marine species healthy and ensure fishermen stay on the water.
By early 2012, science-based annual catch limits should be in place for all of our federally managed ocean fisheries. The regional management councils and the National Marine Fisheries Service (NMFS) deserve a lot of credit for their hard work and their
pragmatic and innovative approaches
to achieve this important goal. Based on my 25 years of experience with these issues (including a four-year stint at the Fisheries Service), I know this was an extremely heavy lift, and we at Pew congratulate NMFS Director Eric Schwaab and the regional councils on this remarkable accomplishment.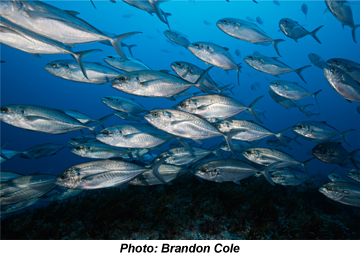 Watering down the MSA or postponing deadlines to restore our fish to healthy levels won't benefit anyone in the long run. Instead, we need to focus on solutions to help fishermen make the transition to sustainability through targeted assistance. We also must improve the quality and timeliness of science that managers use to set catch limits and make other important decisions.
This year, the
Pew Environment Group
worked hard with fishermen and environmental organizations to call on Congress to make
funding for fisheries data collection and analysis a budget priority
. We are also supporting congressional efforts to provide a long-term, stable funding source for critical research and management programs without increasing federal spending. These resources would address some of our most pressing needs, including support for stock assessments, cooperative research, socioeconomic analysis, and development of environmentally friendly gear.